Why Property Management Franchising is a Great Opportunity for Veterans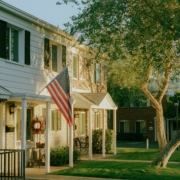 For many veterans, the return to civilian life can present certain challenges. This is particularly true when it comes to finding a fulfilling job. This is why owning a franchise is such a popular choice for veterans looking for their next career move. The property management industry, in particular, is an in-demand field full of growth opportunities and exciting innovations. As a veteran, your knowledge and experience can be a real asset as a business owner. And by investing in a franchise, you will not only be creating your own executive role, but you will also be building toward a more successful and stable future. Due to the proven business model, comprehensive training and support, and low barriers to entry, a property management franchise is one of the best franchise opportunities for veterans.
Military Experience Is an Asset in Property Management
As a veteran, you have a set of skills that is uniquely suited to franchise business ownership. For example, your military training likely helped you develop great problem-solving skills and a willingness to work hard. You probably know how to create and follow a well-planned strategy to achieve any goal. You also have the discipline and drive that business owners need to succeed. Each one of these traits is the same characteristics that help veterans like you become successful franchise business owners. Owning a property management franchise might be a great fit for you.
Benefits of a Veteran-Owned Franchise
A growing trend among both active duty military and veterans is owning rental properties. As a veteran-owned property management franchise owner, you would have the experience and perspective to understand and appeal to this particular client base. The property ownership rate among current and former members of the military is remarkably high – almost 80% – when compared with the general population. It's easy to see how your background and specialized experience could encourage these property owners to trust you with their property management needs.
Advantages of a Property Management Franchise
As the owner of a property management franchise business, you can skip the corporate ladder and move straight into building something of your own. But you don't have to do it alone. Unlike the mom-and-pop operations of days past, property management is rapidly moving into a professional, technology-enhanced future. This is particularly true of top national franchises like Real Property Management. There is a real need for professional, high-quality property management services across the country, driving demand for a new brand of property management business owners. What is more, property management is one industry that tends to be more resilient during economic downturns. With more people renting today than ever before, the demand for property managers is likely to remain strong and steady for years to come.
Another reason veterans are choosing to invest in a property management franchise business is due to the lower cost of entry into the industry. Unlike many other popular franchise businesses, starting a property management franchise can be both accessible and relatively affordable. This is particularly true for veterans, who may qualify for financing at preferential interest rates. This makes property management one of the best franchises for veterans!
National Company, Local Service
As a national franchise, Real Property Management offers advantages you just can't get in a startup. For example, when you become a franchise business owner, you will start your new career with a proven business model, national brand awareness, extensive training, and mentorship opportunities with other franchise owners . In addition, you will have access to the kind of operating systems, technological tools, and world-class marketing materials that big national corporations use – all while offering your property management services as a local expert in your community. For veterans, all of this means that your skills and experience make you even more well-positioned to become a successful franchise business owner.