Leadership
,
Business Ownership
Why the Home Services Industry Remains Recession-Resilient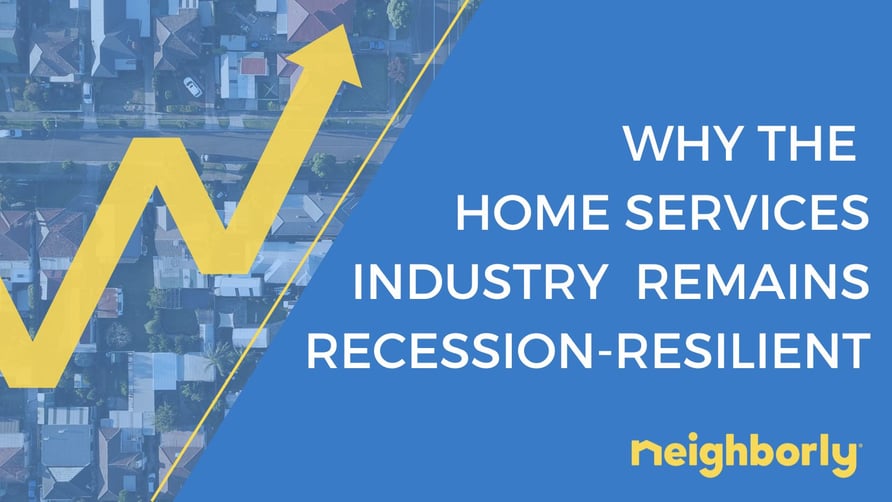 From shopping at the grocery store to filling up at the gas station, it's hard not to notice the looming possibility of a recession nearly everywhere you go. With the threat of economic downturn at the forefront of people's minds, opening a business may seem like an impossible feat.
Qualified candidates are postponing starting a business due to increasing interest rates, financing delays and volatile stock markets, and low unemployment coupled with high wages means candidates are less motivated to leave their jobs now. But believe it or not, a less-than-stellar economic outlook does not mean that your entrepreneurial dreams need to be put on hold.
For the home service industry, businesses can thrive even during a recession. Regardless of the economic state, homeowners will continue to invest in their homes, making Neighborly® and the home services industry at large rather recession resilient. With an essential service provided and support from an established franchise network, Neighborly remains a wise investment during these troubling times. Here's why…
Finding Support Through Franchising
Franchising, as opposed to opening an independent business, provides some key benefits that help support owners as they navigate operating in a recession.
The built-in network of franchises creates the ability to cross-market and drive additional referral business with other owners in your market. At Neighborly, we call this the "Hub for Home Services." Homeowners can quickly and easily find local providers, and our owners can recommend trusted brands within our network for additional home service needs. It's a win-win-win situation for every party involved.
During challenging economic times, a key concern is labor shortage, an issue still fresh on our minds after the Great Resignation. However, franchise owners in the same network can leverage resources, such as sales or marketing expertise, to ease their concerns and save on additional expenses.
Here at Neighborly, our Franchise Business Coaches work with owners to adjust their budget and operations, so they are in the best position to thrive during difficult times. Overall, being part of an established franchise network like Neighborly can ease some of the stress of business ownership in a recession while even creating new opportunities.
Owning a business allows you to have a direct impact on the outcome of your investment dollars rather than being dependent on the financial markets you can't control. I would urge candidates hesitant due to the economy to use their investments to bet on themselves, and really do the math on how the higher interest rate could affect them before it stops them from pursuing their dream.
Repair vs. Replace
Despite the current economic state, homeowners are still investing in improving and repairing their home. In fact, a recent study from Houzz found that 23% of homeowners plan to start a remodeling project with an average cost of $25,000 within the next year. We've noticed an increased usage of home appliances as many people choose to stay home rather than go out. And, the average age of homes is continuing to rise, increasing the demand for repairs or upgrades.
Homeowners are choosing to repair what they currently own rather than buy new to save costs. But even as usage trends and spending habits fluctuate over time, the fact of the matter is homeowners will continue to invest in their home. There will always be a need for plumbers, painters and electricians, and homeowners will continue to outsource most of their home projects.
Home services is therefore a highly resilient industry in times of economic downturn. Regardless of whether homeowners chose to repair or replace, a home service franchise offers entrepreneurs a consistent source of business while providing new opportunities, even as trends or economic outlooks change.
Weathering the Storm
Despite the economic outlook, home service businesses remain a wise investment, especially when supported by an established franchise network like Neighborly. Whether homeowners choose to repair what they own or replace with something new, the need for home service businesses to support them and their homes remains.
For entrepreneurs currently considering franchising, my advice is to make sure you carefully consider the industry and the available franchise options in your market to determine what sector can best weather a recession. After that, the next step is to meet with the franchise development team, operational leadership, and existing franchise owners to get a great perspective on if the brand is a good fit.
Opening a business is a daunting task under normal circumstances, and when the economy is struggling, it can seem next to impossible to find success. But it is entirely possible for your business to not just survive but thrive during a recession. Joining an industry that remains essential even in a recession and having the support of a network like Neighborly can help make your dreams of owning a business a reality.
To learn more about franchising with Neighborly, contact us today!
Written By Brian Woods, Group VP, Franchise Development, Neighborly on LinkedIn