Investing in Dryer Vent Cleaning for 2023 and Beyond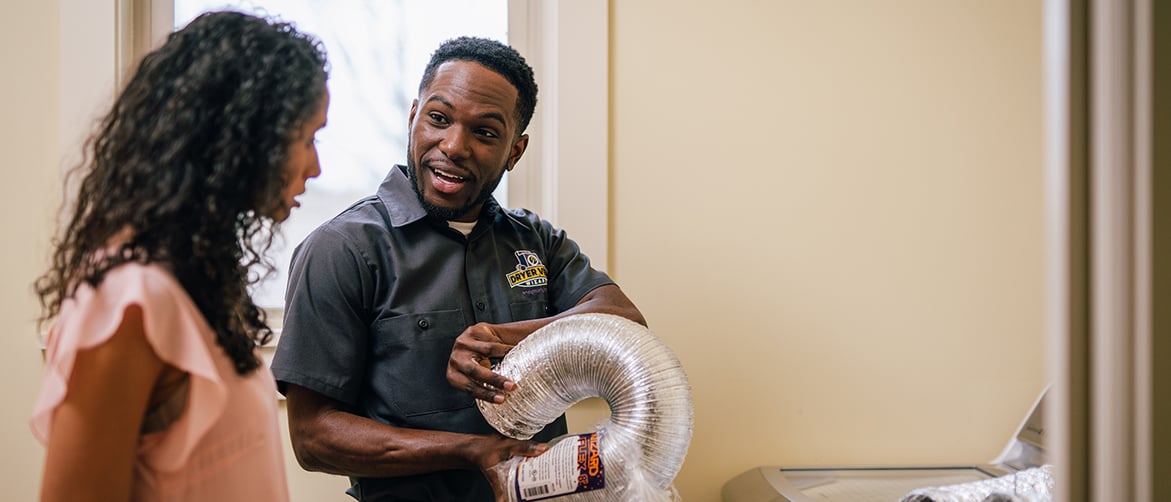 Dryer vent cleaning is both a unique and proven business model, and Dryer Vent Wizard® is one of the leading franchises that offers this service. Dryer vents are often overlooked when it comes to home maintenance, even though they should be regularly cleaned for optimal safety and performance.
Investing in a franchise allows entrepreneurs to take advantage of the increasing demand for dryer vent cleaning services by providing customers with reliable and quality service.
What to Consider Before Buying a Franchise
Before investing in a franchise, it is important to do your research and to consider both the pros and cons of each opportunity. In the dryer vent cleaning franchise industry, there are key aspects to include in your decision-making process.
Industry Demand
When investigating franchise business opportunities, the first thing to consider is the existing demand for the product or service. One of the key mistakes that startup businesses make is failing to accurately assess the demand for their offerings.
The dryer vent cleaning industry, as a whole, is one that has seen strong and increasing demand over the years. Part of the reason is that it is an essential service that many homeowners need to have done regularly and consumers are becoming more aware of. There are 2,900 home clothes dryer fires are reported each year in the United States, and increased awareness of this hazard has helped drive demand for professional dryer vent cleaning services.
Franchise System and Foundation
When researching franchise business opportunities, it is essential to gain a full understanding of the franchisor, the organization you plan to join, and their goals and values. This is critical to ensuring that the franchise you choose matches your own business interests and career goals. Not every franchise business is the right fit for every person, so be sure to take an honest inventory of your own strengths - and then learn everything you can about the business.
The Advantages of Investing in a Dryer Vent Cleaning Franchise
Business owners choose to start a dryer vent cleaning franchise business for many different reasons. One of the things that many find attractive about the industry is the combination of lower startup costs and a relatively short learning curve for new employees. But perhaps the most important advantages of investing in a dryer vent cleaning franchise are the potential for growth and strong demand for professional services.
Growing Business Opportunities
Steady growth is a key indicator of any solid business opportunity. The dryer vent cleaning industry is one that has experienced steady growth in recent years. According to industry data, the dryer vent market is currently valued at over $360 million, making it one of the fastest-growing franchise businesses.
What is more, data projections predict a compound annual growth rate of 3.7 percent from 2019 to 2029. Individual business owners can further capitalize on this growth by offering quality services and expanding service offerings to include not just cleaning, but also repairs and replacements.
Increased Awareness and Demand for Professional Cleaning
In recent years, the dryer vent cleaning industry has experienced a surge in demand due to the increasing awareness of appliance fire hazards and energy efficiency. Social media has been instrumental in helping to spread the word about the dangers of neglected dryer vents. In response to this increased awareness, homeowners today are more likely to see the value in quality dryer vent cleaning services and to view it as an investment into their comfort and safety.
Commercial building owners also recognize more than ever the value in hiring a trustworthy company to meet their dryer vent cleaning needs. For professional dryer vent cleaning companies, this creates an opportunity to provide the trusted services and peace of mind that property owners need.
Opening Your Own Dryer Vent Cleaning Franchise with Dryer Vent Wizard
Dryer Vent Wizard is a leader in the dryer vent cleaning industry, offering franchise opportunities for entrepreneurs and potential business owners who want to own and operate their own franchise. Dryer Vent Wizard offers support and resources to help you get your business off the ground and running quickly.
There's good evidence to support strong demand for dryer vent cleaning services in the residential market.
Dryer Vent Wizard offers a unique opportunity to invest in the home repair market while enjoying benefits like:
Home-based executive business model, perfect for those that want to manage the business and team, not perform the labor
Distinct revenue streams
Work/life balance
Designated territories in prime markets
With increased awareness of appliance fire hazards comes more demand for professional dryer vent cleaning services – making Dryer Vent Wizard an even better investment. Investing in this industry can provide you with great work/life balance while allowing you to grow your own successful dryer vent cleaning franchise business.
Ready to take the next step and learn more? Download our helpful Franchise Guide to learn more about Dryer Vent Wizard and begin the step-by-step process to opening your own dryer vent franchise.
This information is not intended as an offer to sell, or the solicitation of an offer to buy, a franchise. It is for information purposes only. Currently, the following states regulate the offer and sale of franchises: California, Hawaii, Illinois, Indiana, Maryland, Michigan, Minnesota, New York, North Dakota, Oregon, Rhode Island, South Dakota, Virginia, Washington, and Wisconsin. If you are a resident of or want to locate a franchise in one of these states, we will not offer you a franchise unless and until we have complied with applicable pre-sale registration and disclosure requirements in your state.