Business Ownership
A Business Niche Opportunity with Dryer Vent Wizard®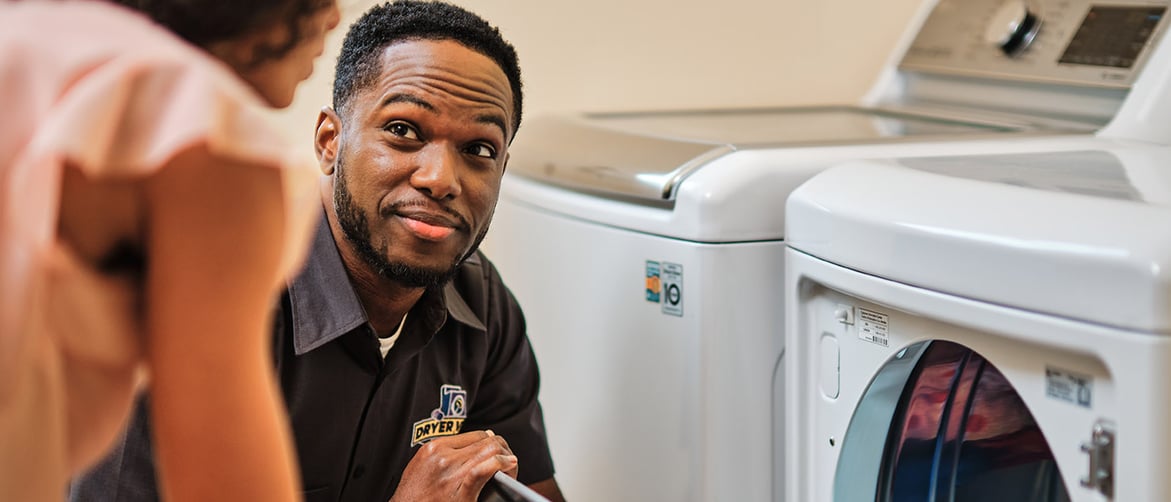 Within the competitive home services industry, expected to reach $1,219 billion by 2026, many companies fight for the same customers and end up providing overlapping services—a broad business approach. But when a market is packed with so many suppliers, a more narrow, specialized concept can often be the way to get noticed and beat out the competition.
Dryer Vent Wizard® is a great example of such a company. Whereas typical vent cleaning with most HVAC or broader home services companies consists of simply vacuuming the vent, the value a Dryer Vent Wizard franchisee offers is far more extensive. From detailed cleaning processes to repair, maintenance, and other comprehensive capabilities, customers turn to this successful franchise for all their dryer vent-related needs.
This enables the business to carve out a niche that franchise owners are taking advantage of as they capitalize on opportunities in this growing industry and realize their dreams of business ownership.
Advantages of a Niche Home Service Business
What is a niche market in business? A niche market is defined as a focused set of people or businesses who want to purchase a specific offering. When you own a niche business, you have the advantage of automatically distinguishing yourself from any competition.
In a consumer market driven by search engines, this type of specificity is critical to customers being able to find your business. That means that as potential customers search online for whatever specific services they need that day, niche-specific brands often win in the search results.
Tools like Google Trends can help you determine whether your potential niche is in demand, as well as help you discover the target audience's most common searches and pain points. Additionally, as businesses further define themselves and set themselves apart, they can create more business niche ideas that are unique to their industries.
Dryer Vent Cleaning Niche
The dryer vent cleaning business is a niche area in a home service industry that offers an essential service and addresses a crucial, but sometimes overlooked, maintenance task. Dryer vent cleaning helps remove lint and debris from the exhaust vent of a clothes dryer to ensure that the dryer operates efficiently and safely. It also reduces the risk of fire hazards associated with a clogged dryer vent.
Is this a sizable niche to build a business around? According to industry reports, the U.S. dryer vent cleaning market alone was valued at approximately $360 million in 2019 and is expected to grow at a CAGR of over 3.5% through 2029. This growth is driven by factors such as increased awareness about the importance of dryer vent cleaning and growing emphasis on energy efficiency and sustainability.
The opportunity is there. However, it is not an easy business to break into without some help. If you are starting a dryer vent cleaning business from scratch, it can take time to generate brand awareness and establish a solid customer base. This is where the idea of buying a franchise specializing in this service can help reduce start-up risks and increase your speed to market.
Dryer Vent Wizard Franchise
By specializing in dryer vents, Dryer Vent Wizard has established itself as the authority in the industry. More generalized home services may offer some basic dryer vent-related maintenance, but offering a set of solutions specific to dryer vents gives customers greater value and more comprehensive service. A Dryer Vent Wizard franchisee has the advantage of being the only company in the highly competitive home services industry with a simple and scalable business model that specializes in repairing, replacing, alternating, cleaning, and maintaining residential and commercial dryer vents.
It provides franchisees with a flat-rate pricing book that outlines costs for any service situation. Dryer vents are often left unattended and overlooked, technicians often find other issues they can bring to the homeowner's attention—and fix them on the spot. While cleaning a dryer vent, technicians often find other issues with the system and with their expertise can quickly diagnose these issues and repair or update them without delay.
In addition to benefiting from a nationally recognized brand name, demand is further increased through cross-selling within the family of Neighborly® brands. For example, a homeowner with a drain that requires unclogging may also want to have their dryer vent looked at. And referrals from other service franchises in the Neighborly family of brands can also drive growth for individual franchise owners. Many customers use more than one brand to service their homes, and Neighborly's scale and capabilities make it easy for service providers to share knowledge and referrals among the other franchised service providers.
Neighborly Can Help Today
Dryer Vent Wizard is a part of Neighborly's family of 19 different niche home service brands.
With a high-performing website and app through which consumers can connect with any of its 19 U.S. service brands, Neighborly has been highly successful at this strategy. Learn more about a niche business opportunity with Dryer Vent Wizard and discover how your skills and passion for business ownership can be fully realized with growing and often underserved market opportunity.