Best Franchise Opportunities for Veterans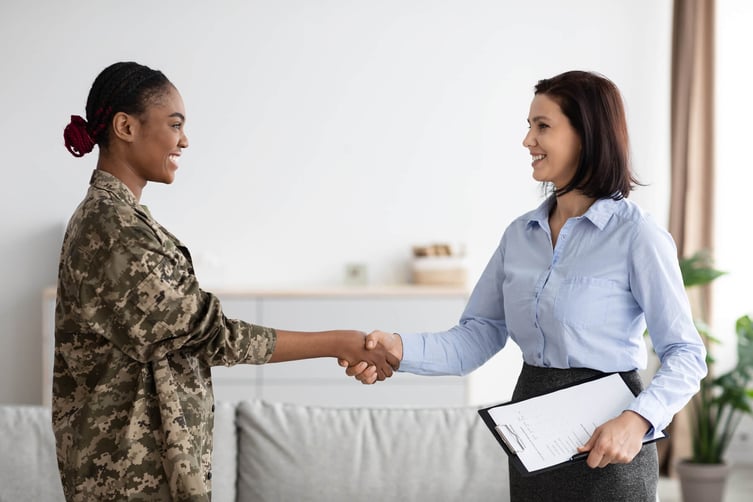 Running a franchise is an excellent opportunity for aspiring business owners and is particularly advantageous for veterans. Grit, determination, and leadership ability are all characteristics of both entrepreneurs and former service members. While veterans make up only 7% of the country's population, they account for 14% of franchisees in the US.
The foundations of military service and franchising share similar building blocks. Disciplined, hardworking, and detail-oriented veterans often make great small business owners because they have excellent experience in operations and working within a system to follow and execute a plan for success. With their unique skill set, veterans have the opportunity to enter, and succeed in, industries in which they have no prior experience. Discover the best franchise opportunities for veterans to consider.


Best Home Service Franchise Opportunities For Veterans
Already accustomed to the reliability and decisiveness required of successful business owners, veterans have a lot to offer as franchisees. In 1991, Neighborly® founder Don Dwyer Sr., also founded VetFran®, a voluntary group of International Franchise Association (IFA) member companies that encourages veterans to participate in franchise ownership. The mission of the IFA's VetFran program is to facilitate the transition of veterans into franchising.
With low startup costs, low overhead, and a high degree of flexibility, home services franchises are among the best franchise opportunities for veterans. Not only are home services almost always in high demand, but these services are also recession resilient. There are many different options within the home services industry, and the nature of the work many perform has similarities to the capabilities that veterans cultivate while serving in the military.


1. Cleaning Services
It should come as no surprise that people who have successfully trained and drilled to keep everything "inspection ready" might find a cleaning service franchise to be among the best franchises for veterans. With a renewed focus and concern on cleanliness and sanitation, cleaning services are utilized by both commercial and residential customers. Cleaning services are in-demand businesses to own and build.


Molly Maid®
Molly Maid ranks among the top ten percent of all the nation's franchises in recruiting military veterans. Listed on the Franchise 500 List and as one of America's Top Global Franchises by Entrepreneur Magazine, Molly Maid is a franchise with low costs and reliable demand. The house cleaning franchise business runs on a predictable Monday-to-Friday schedule, providing franchise owners with a flexible work/life balance, which many veterans find to be desirable as they transition to civilian life.


Dryer Vent Wizard®
Did you know that every 36 minutes a dryer fire occurs? With Dryer Vent Wizard, you're providing a potentially life-saving service to your community. Dryer Vent Wizard provides the freedom to work out of a home-based office serving homeowners and businesses by cleaning, repairing, and installing their dryer vents. As one of the only national providers of dryer vent cleaning and repair services in the U.S., Dryer Vent Wizard has unparalleled expertise in a heavily underrepresented market.


Window Genie®
More than window cleaning, Window Genie offers diversified, year-round service offerings, including window tinting, pressure washing, gutter cleaning, and holiday lights. With homeowners motivated to keep their property looking good, Window Genie is an ideal franchise for recurring revenue. Veterans can often maintain a family-friendly workweek with a flexible schedule.


2. Residential and Commercial Painting
Painting franchises aren't just about painting, they are about managing projects and making a positive impact on the lives of those around you. This is appealing to veterans, who have had similar responsibilities throughout their military careers. Helping people improve their homes can be a rewarding line of work, and painting franchises are designed to suit hardworking people from nearly any professional background.


Five Star Painting®
Recognized as a top franchise for veterans in 2021 by Entrepreneur, Five Star Painting specializes in residential and commercial painting. The highly scalable business model offers a family-friendly work week, with no emergency or on-call work. With no initial office space required and minimal overhead, you can work from virtually anywhere.


3. Property Management
Veterans are proficient at quickly responding to changing environments and dynamics, and they can maintain a calm demeanor in any situation. Property management is a fast-paced job with room to grow into managing larger properties, making it perfect for transitioning service members who want a challenge.


Real Property Management
America is becoming a renter nation, with over a third of the nation's households now renting. Property management involves the maintenance and oversight of real estate. When the owner of a property doesn't have the time or experience to handle the operational tasks involved in renting or leasing their property, they have the option of hiring a property manager. The ability of veterans to handle a variety of situations is an important skill for Real Property Management franchise owners when it comes to fulfilling duties such as communicating with both tenants and property owners, handling tenant requests, and hiring or managing maintenance and repair contractors.


4. Landscaping
For those who don't want to be stuck behind a desk, the landscaping industry allows veterans to slowly transition into business ownership by taking on as much or as little work as desired. No matter your role in the company, nature is inherently intertwined. Landscaping teams excel when they're operating as one, which is what makes veteran leadership experience so important.


The Grounds Guys ®
Landscaping businesses specialize in the care of outdoor spaces for homes and businesses. From mowing lawns and basic plant care to full-service landscape installation, landscape professionals provide a range of services, encompassing designing, building, and maintaining outdoor spaces. The Grounds Guys are committed to helping veterans achieve their dreams and reach their goals by being in business for themselves.


5. Pest Control
Military veterans have said that working in the pest control industry is compelling because they can put the expertise, they developed defending our country to work toward defending families from pests and diseases! A pest control franchise may be a fit for veterans who want a business ownership opportunity that frees them from being chained to a computer in an office, or those that want the flexibility of a seasonal business.


Mosquito Joe®
Mosquito Joe was identified by Franchise Business Review as one of just 80 franchise brands to be named an award-winning franchise in its 2021 report on the Top Franchises for Veterans. Mosquito Joe provides mosquito, tick, and flea control treatment to residential and commercial customers. With high reported customer retention, Mosquito Joe has a flexible, recurring revenue business model and a low initial investment.*


Discover the Best Veteran Franchises with Neighborly®
Neighborly offers valuable discounts to service members looking to start their own franchise. Our low startup costs for veterans and qualified disabled veterans allow you to get started quickly and hit the ground running.
Still on the fence about joining a franchise or unsure about where to take your career? Talk to one of our Franchise Developers today.
*See item 19 of the Mosquito Joe Franchise Disclosure Document for full details.