Professional Development
How to Take the Next Step in Your HVAC Business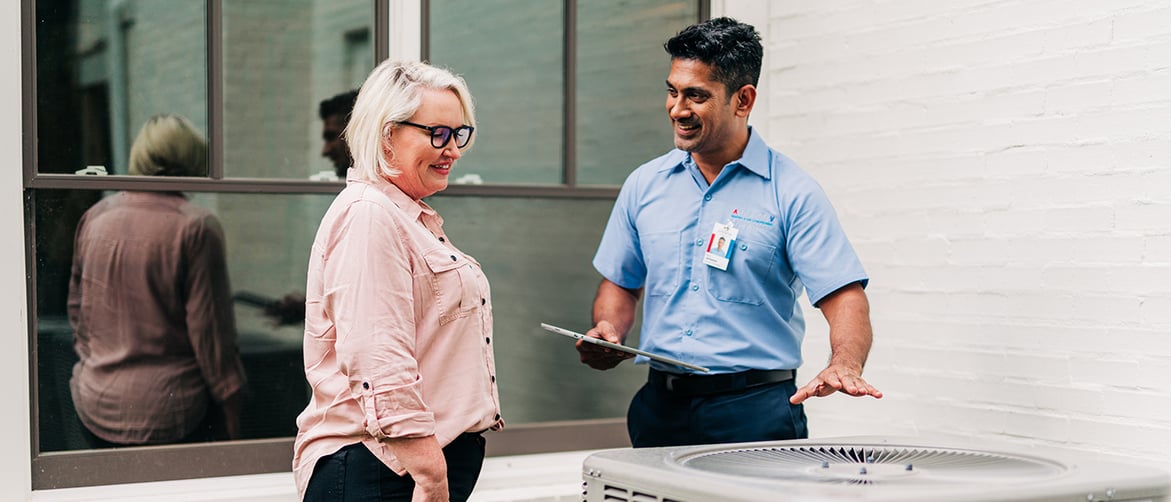 After a busy season, many HVAC business owners report feeling a bit burned out. If you're in this boat, you may be looking for ways to take that important next step in your business - without making matters worse. If you want to grow your HVAC business without sacrificing your quality of life, ask yourself these five key questions:
Is your business generating the income to support you and what you want to do in your life?
Is your business providing you with a quality lifestyle?
Is your business creating wealth?
Is your business giving you equity – a valuable business?
Is your business helping to eliminate all negative debt?
If you can't answer "yes" to all five questions, it may be time to make a change. One of the best ways to meet your personal and professional goals while optimizing your industry expertise is to convert your HVAC business to a franchise.
Rolling in your HVAC business to an Aire Serv® franchise can have many benefits and help you reach your goals while avoiding burnout and giving you the quality of life you've been striving for.
What do you get by rolling in your business to an Aire Serv?
When you roll in your business to an Aire Serv franchise, you get the best of both worlds. You maintain control and ownership of your company while benefiting from the expertise, marketing, and sales support of an established franchise system. In other words, you get to be the boss while also improving your leadership skills and gaining the extra support to push your business to a new level.
Here are some of the most valuable things that come with Aire Serv franchise ownership:
An Established Business Model - When you become a franchise business owner with Aire Serv, you get access to our time-tested business model. This means that you can hit the ground running with a business that has already been successful. There is no need to waste valuable time trying to figure things out on your own. Instead, you'll have the guidance to help you make decisions while still being in control of your business and client base.
Get Out of the Field - If you are feeling burned out, chances are you've been working in your business, instead of on your business. There's a huge difference! When you convert your HVAC business to a franchise, you can immediately step up to an executive owner and run your business like the boss you are. No more running around fulfilling service calls; instead, you will concentrate your efforts on building your business, your team and growing it behind the scenes.
Operational Support - Aire Serv provides you with tried-and-true operational support, so you can avoid making mistakes that could cost you time and money. We provide turn-key back office and field systems to make your day-to-day operations more efficient. We use proprietary software systems that have been custom designed for HVAC businesses, helping you work smarter, not harder! Plus, as a franchisee you will have access to ongoing training and development, not to mention support for every aspect of your business, from marketing to finance management and beyond.
Hiring Assistance - Recruiting and retention can be a barrier to growth. Aire Serv as part of the Neighborly® family of brands, provides the best-in-class tools and resources available to our franchise owners.
Opportunity to Grow - When you roll in your HVAC business, you are giving yourself one of the greatest gifts possible: the opportunity to grow beyond what you can do now! It all starts with associating your quality work with a respected, national brand. One of the most valuable aspects of any successful business is brand awareness. In fact, research has shown that consistent branding is capable of increasing business revenue by up to 23%! Add to that professionally designed marketing materials and full support and training in effective local marketing strategy, and it's easy to see why Aire Serv franchise businesses are capable of healthy growth year after year.
Work/Life Balance - One of the main reasons people choose to become franchise business owners is for the improved work/life balance that comes with owning your own business. When you choose to convert your HVAC business to a franchise, you are choosing to be in business for yourself, not by yourself. When you are the boss, you get to make the decisions about how your business is run. That includes having the flexibility to set your own hours and take time off when you want or need to. By training and delegating to responsible employees, you give yourself the ability to schedule time for family, community, and other important aspects of a happy, fulfilling life.
How to Roll in Your HVAC Business
Given all the benefits that come with franchising, it's a great time to ask yourself: Am I ready to grow my HVAC business in new and exciting ways?
If your answer is yes, here are your next steps to get started rolling in your HVAC business:
Do your research - Before making such important decisions about your business - and let's face it, your future! - it's important to know as much as you can about any franchise opportunity. One thing you can do right now is to learn more about Aire Serv by clicking here. You can also download our Franchise Guide, which offers a wealth of valuable information on our company and our franchise opportunities.
Contact us – When you're ready, reach out to us to find out if Aire Serv is the right fit for you and vice versa! Franchise ownership is a partnership, and it's important to make sure that you and your chosen franchisor will work well together. One of the easiest ways to reach out to us is through our online contact form. A franchise representative will then call you to walk through the process of rolling in your HVAC business. We'll also go over various aspects of franchising, such as financing, important franchise disclosure information, and more. They will also happily answer any questions you may have.
Continued Assistance - Once you start the process to convert your HVAC business to a franchise with Aire Serv, you will be designated a Sure Start Consultant to guide you through all the next steps. In fact, with Aire Serv and Neighborly, you'll have guidance from beginning to end! After you open your newly re-branded business, you'll be assigned a Franchise Business Coach to support you as your business grows.
Why Choose Aire Serv?
Aire Serv is a trusted and well-established brand in the home services industry, with over 30 years of experience. We are committed to providing the best possible experience for our customers, and that all starts with our franchisees. Plus, our established history - along with our trusted, national brand name -make it possible for franchise owners to achieve more than you could on your own.
Gary and Shelly Mertz, Aire Serv franchise owners from Flower Mound, Texas, explain why:
"We joined Aire Serv because our business had been growing, and we reached a point where we didn't know where to go, didn't know what to do, needed more tools to be able to move everything forward. And Aire Serv not only offered the technology, the systems, and a way forward but, most importantly, they also offered the integrity, the transparency, and the people we could trust to help us do it."
Aire Serv is part of Neighborly, a world leader in the home services industry made up of 30 trusted brands. With Neighborly and Aire Serv, you have the help you need to get started and reach your business goals.