Franchising 101
A Better Path to Starting a Pest Control Business: Mosquito Joe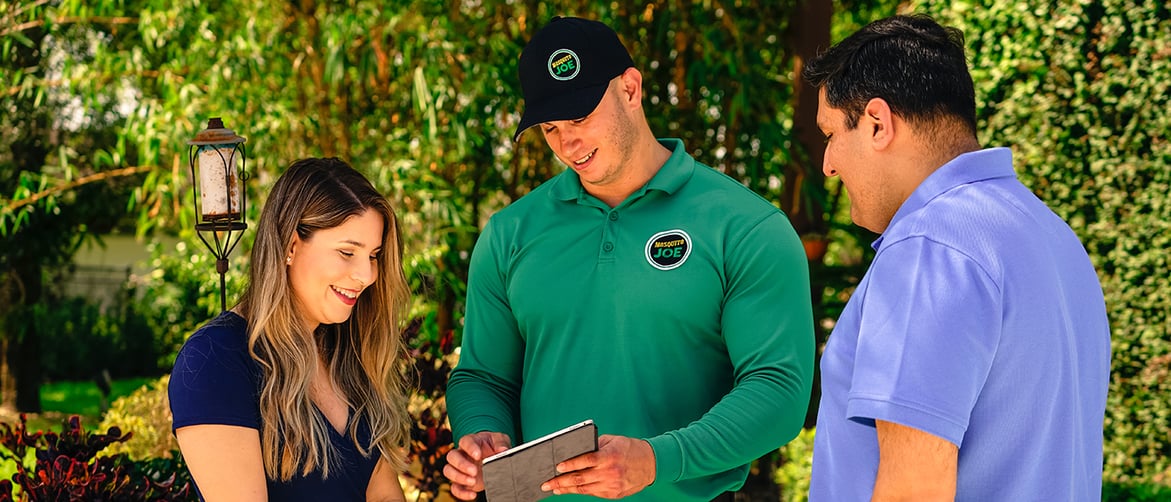 If you are looking for an outdoor business idea that can help your community while making you money, then starting a mosquito control business may be the right fit. Why mosquito control? Put simply, it's one of the fastest-growing segments in the lucrative outdoor pest control industry. With a relatively low cost of entry and growing demand, this sector of the industry offers business owners professional freedom while also positively impacting customers' lives and the environment. Read on to learn more about how Mosquito Joe® can put you on the path to owning a successful pest control business!
Benefits of Starting a Mosquito Control Business
Starting a mosquito control business can be both rewarding and profitable. Let's take a closer look at some of the key benefits that come with starting such a venture.
Seasonal Business Model Provides Work-Life Balance
Unlike traditional pest control businesses that are responsible for year-round services, mosquito control is typically a seasonal business model. This type of arrangement may be ideal for business owners who are looking for more work-life balance.
Mosquito season typically runs from late spring to early fall, but can vary based on location. That means that mosquito control business owners may be able to accrue a year-long revenue stream in just 5-9 months during mosquito season.
This seasonality provides an offseason, giving business owners time to refine business goals, explore other opportunities, take time off, or travel. This is the kind of flexibility you likely won't get from a traditional job, and is one of the biggest benefits of owning an outdoor pest control company.
Mosquito Control Services are in High Demand
Swarms of mosquitos are certainly a nuisance and can ruin any outdoor gathering. But with the dramatic increase of mosquito-borne illnesses in recent years, consumers and business owners feel a new urgency to protect themselves, their families, and their guests from these pesky critters.
This makes the mosquito control industry a high-growth market. As the weather gets warmer and the warm weather lasts longer, more places are seeing an alarming increase in the mosquito population. These trends spell an opportunity for prospective business owners to start a mosquito spraying business.
Recurring Revenue
Mosquitos are an ongoing threat to homes and businesses. While spraying treatments are effective, mosquitos will eventually return. This creates the need for a quality service provider, a need that does not go away over time, making it easy for the business to achieve a recurring revenue stream.
Businesses that offer recurring services typically experience less volatility in their financial performance than companies reliant on one-time services. Plus, repeat customers (and the friends they refer to you) can help reduce new customer acquisition costs. Because mosquito control is a repeat service, monthly, bimonthly, or quarterly, pest control relationships can create viable, long-lasting revenue stream for your business.
Business Ownership With a Purpose
Mosquito control businesses are not only financially attractive, but they also help protect people and communities from mosquito-borne illnesses. Mosquitoes are ranked as the deadliest creatures in the world because of the many diseases they can transmit. Mosquito populations are flourishing throughout the United States, and insect-borne illnesses, such as West Nile Virus, Zika, and malaria have been rising in recent years. In fact, as of January 10, 2023, a total of 1,035 cases of West Nile virus disease in people have been reported to the CDC.
The Centers of Disease Control, the World Health Organization, the U.S. Environmental Protection Agency, U.S. Department of Health and Human Services, and the U.S. Department of Agriculture all concur – mosquito management is of significant public health importance. As a mosquito control operator, you can be an integral part of helping to protect people and communities.
Advantages of Franchising with Mosquito Joe
One of the most effective ways to break into this business is through franchising with a proven brand. Mosquito Joe is a leading outdoor pest control franchise that provides prospective owners with a unique opportunity to become an independent business owner, while providing an important service to your community. In fact, Mosquito Joe was rated by Forbes as one of the 5 best Mosquito Control Companies of 2023! As a Neighborly® brand, you know that Mosquito Joe is a values-based company.
We take pride in our work and in our franchise business owners. Other reasons to consider starting a Mosquito Joe franchise business include:
No Experience Required
You may be surprised to learn that prior pest control experience isn't required for starting a Mosquito Joe franchise, but it's true! Mosquito Joe makes it possible for new business owners to gain the experience you'll need to run a successful pest control business by providing rigorous training and access to a variety of additional support utilities and services.
The initial training program takes place at Mosquito Joe Headquarters in Virginia Beach, VA, at our very own MoJo University. In the training, we cover the operation of all equipment and products, compliance measures, marketing strategies, and business operations and management.
Business owners also receive ongoing marketing support through promotional materials and customized local campaigns, as well as a dedicated call center. This allows franchise owners to focus on the growth and administration aspects of your business.
More Than Just A Mosquito Spraying Business
While Mosquito Joe specializes in mosquito control, we also offer expertise and pest control services for fleas, ticks, and other pests. This provides a great opportunity for business owners to expand your customer base and service offerings, as well as your bottom line. By offering a range of pest control services customized to your location, you have the flexibility to grow your business based on customer demand.
Environmentally Friendly Pest Control Products
Mosquito Joe is a member of the Pesticide Environmental Stewardship Program (PESP) established by the Environmental Protection Agency (EPA). Through this partnership, Mosquito Joe provides low-risk and natural pest management. We offer two main varieties of mosquito control:
Barrier spray that targets the perimeter of a yard or property with EPA-approved chemicals every 21 days
Natural mosquito control treatment that uses garlic or botanical plant oils sprayed every 14 to 21 days for full effectiveness.
By using only EPA-approved spraying products, Mosquito Joe ensures customers can enjoy their outdoor spaces safely and without the hassle of mosquitoes, ticks, and fleas.
Get Started with Mosquito Joe
If you are considering becoming a business owner and curious to learn more about this industry opportunity, check out the resources on our website and in our free franchise guide. Talk to one of our franchise consultants who would be happy to answer any questions you have.
Start your journey toward business ownership today!