Work/Life Balance
An Entrepreneur's Guide to Finding a Great Work-Life Balance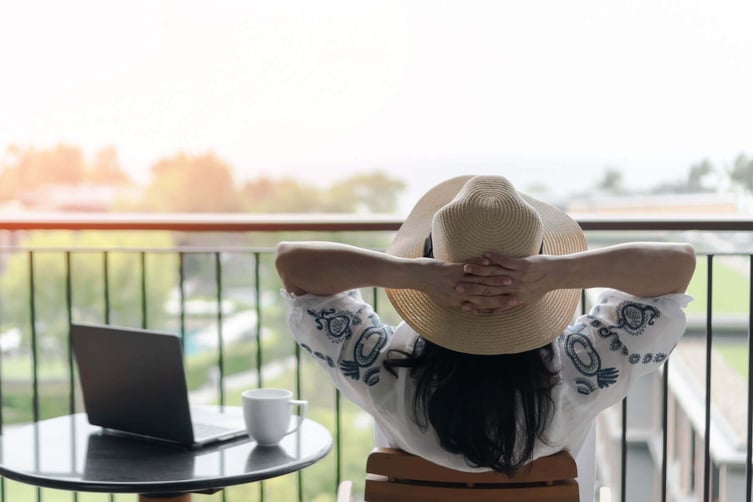 Entrepreneurship is on the rise. According to the Economic Innovation Group, data shows that in 2022, nearly 1.7 million applications to form new businesses were filed, likely to hire employees, making it the second-highest total of any year on record and representing a 27.8 percent increase from 2019.
While business ownership is becoming more appealing than ever, it also involves significant time and dedication, particularly during the start-up phase. Balancing time between your business and personal life is essential, yet developing a successful work-life balance can be one of the biggest challenges business owners face and one of the main reasons people go into business for themselves. We've compiled a few practical tips to help you achieve a healthy work-life balance.
Work in an Industry That You Enjoy
In the pursuit of success, most entrepreneurs want to work in an industry that is projected to grow and succeed. However, it can be equally important to ensure that you will enjoy what you do as a business owner. Research by The Alternative Board found that most small business owners work over 50 hours per week. Many business owners also frequently have difficulty switching off after hours.
When dedicating this much time and effort to your business, ensuring it's something you're passionate about and enjoy will help you avoid entrepreneurial burnout and make the hard work worth it.
Set a Realistic Work Schedule
One significant benefit to being your own boss is setting your own schedule. However, entrepreneurs who are passionate about their business may find it infringing on their personal life. As the old proverb says, "All work and no play makes Jack a dull boy." A key component of establishing a healthy work schedule is creating a realistic plan that clearly defines the boundaries between work and personal affairs, including time to take care of yourself.
While it may feel counterintuitive, enjoying time away from work is essential for the success of your business. Running a business is hard work, and you must take good care of yourself to ensure you take good care of your customers and employees. Use your time away from work to do what you enjoy, such as hobbies, spending time with family, exercising, or allowing yourself to rest. Do your best to unplug entirely, avoiding checking in on work or checking emails during your time off.
Identify Your Priorities
Owning your own business comes with many responsibilities, and it can be easy to become mired down in the day-to-day operations of running your business. While you may think that you can get it all done yourself, business owners need to be able to prioritize the most critical items.
To make sure you're focused on the essential aspects of your business and not being overwhelmed with long to-do lists, determine your top priorities each day and week.
In addition to prioritizing your tasks, you also want to ensure that you have only a few projects or tasks competing for your attention simultaneously. Where possible, learn to delegate tasks, whether that be to employees or a business partner, if you have one.
Find a Career to Support Work-Life Harmony
Building a career where you can be your own boss while balancing your personal and professional lives may seem complicated, but it's not impossible. Franchising is an opportunity that provides a tremendous amount of versatility when it comes to work-life balance, offering entrepreneurs the chance to run a business with flexibility.
With franchising, 'you're in business for yourself, not by yourself.'' With a strong company framework and established systems and technology, you can manage your business when and where you want, offering you greater flexibility than most bosses would allow. When choosing to own and operate your local franchise, you are your own boss, and you have the opportunity to create your own schedule and build toward the lifestyle that you would like to have.
Find Work-Life Balance in Franchising
At Neighborly®, we are here to help you learn how to balance work and life. By franchising with Neighborly, you have the opportunity to balance your personal and professional life, all while building a business that benefits from an established business model. Our franchise model allows our owners to work, but more importantly, it will give them time to spend with loved ones doing what they want.
If you think franchising could be in your future, take a look at our franchising guide to learn more.