5 Reasons the Home Inspection Industry is Perfect for Franchising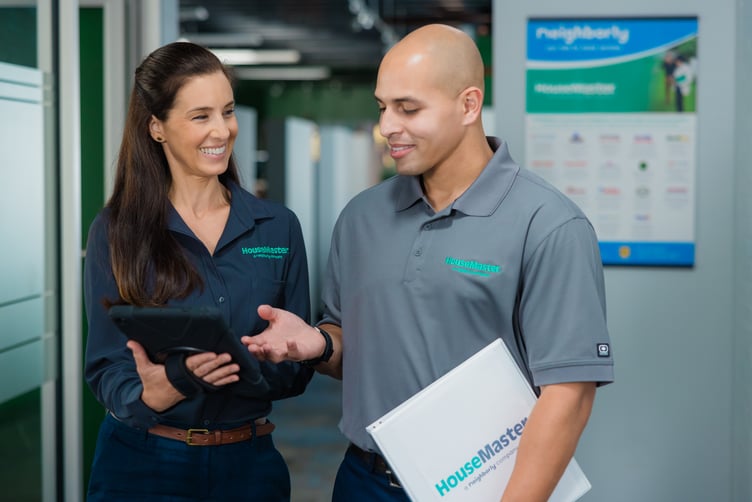 Buying a home is the single largest purchase for most individuals, and the home inspection industry tremendously impacts the people they serve. Home inspections are a critical part of the real estate transaction process, and their importance in ensuring the safety and quality of a property is widely recognized. As the owner of a home inspection business, you help homebuyers make informed decisions, bring peace of mind, and identify ideas for repair and maintenance.
A home inspection franchise can be a launch pad to a thriving business without the hurdles present in many other industries when you try to get your business started. Here are five reasons why the home inspection industry is an attractive option for franchising.
Reason #1. Proven Business Model
Franchising is an excellent option for service-based industries like home inspection because it allows entrepreneurs to access proven business systems rather than "trial and error." The home inspection industry has a well-established and proven business model that can be easily standardized and transferred to new franchisees.
Franchising relies on processes and services that can be replicated across multiple locations, approaches and services that scale quickly are particularly attractive. Home inspection services must follow guidelines around how inspections are conducted, what areas are examined, and what criteria are used to assess a property's condition. This systematic approach makes it perfect for a franchise model that has already "road-tested" a system that worked out the kinks and found a successful approach that franchisees can follow and adopt from day one.
Reason #2. Diverse Service & Customer Base
Franchises often offer easy ways to diversify service offerings to additional revenue streams, which can contribute to their financial stability and long-term success. The ability to serve a range of needs and customer demographics ensures that a franchise is independent of one service or customer segment. Diversification allows franchise owners to adapt to changing market conditions and customer preferences while maintaining brand consistency and quality standards.
Because their services are essential in various real estate transactions and property-related situations, home inspection businesses enjoy a wide range of potential customers, including:
Homebuyers- Homebuyers hire inspectors to assess the condition of a property they intend to purchase.
Sellers- Home sellers may also hire inspectors to conduct pre-listing inspections. This can help identify and address any problems before selling the property.
Real Estate Agents- Real estate agents often recommend or arrange home inspections for their clients, both buyers and sellers.
Investors- Real estate investors, including landlords and property flippers, use home inspections to evaluate the condition of investment properties.
Insurance Companies- Insurance companies may require home inspections to assess the condition of a property before providing homeowner's insurance or assessing risks related to property damage.
Homebuilders- Homebuilders may hire inspectors to ensure that newly constructed homes meet quality and safety standards before they are sold or occupied.
Financial Institutions- Banks and lending institutions may require home inspections as part of the mortgage application process to assess the value and condition of the property.
In addition to standard home inspections, there is a large market for specialized inspections such as radon or mold screenings, water quality inspections, swimming pool inspections, termite inspections, and more.
Reason #3. High Demand Continues for Home Inspections
Demand is another key indicator that an industry is suitable for franchising. Industries with a strong demand for their services already have a built-in customer base that franchisees can tap into. With 88% of buyers using a home inspector's services for their most recent home purchase, home inspections remain a vital part of the real estate transaction process for home buyers, sellers, real estate agents, and commercial property owners alike.
In fact, Zillow's 2022 Seller Consumer Housing Trends Report shows that the percentage of buyers who have waived home inspections thus far is at its lowest in five years. Inspections, whether buying or selling a home, are often required, ensuring a consistent demand for these services.
Reason #4. Recession-Resilience
In times of economic uncertainty, many of the best franchises provide essential services. While many factors contribute to the essential nature of home service businesses, an essential business generally provides goods and/or services that the public will always need, regardless of economic conditions.
Most home service businesses are considered essential because they provide services that homeowners and business owners rely on.
Home inspections are a critical process in the real estate industry that helps homebuyers and sellers make informed decisions about the property they want to buy or sell. Additionally, regardless of the economy, people continue to buy and sell homes. Because of this, the need for home inspections remains relatively stable even during economic downturns, making it a recession-resilient industry.
Reason #5. Low Entry Barriers
One of the biggest reasons people turn to franchising is its stability. More aspiring entrepreneurs are looking for resilient business opportunities with potential return. While starting a business is always with some risk, one of the benefits of franchising is that it works to minimize risk.
Franchises also often aim to have a lower barrier to entry compared to starting an entirely new, independent business. Home inspection franchises, in particular, often have a relatively low barrier to entry compared to other industries. The start-up costs for a home inspection business are manageable as they primarily include training and certification fees, insurance, marketing materials, and essential equipment. A lower barrier to entry helps franchises grow and expand more rapidly.
Explore Home Inspection Franchising with Neighborly®
In an unpredictable economy, aspiring entrepreneurs value lower-risk investments with proven models, brand recognition, and a focus on growth. Franchising provides the necessary support, training, and branding to help newcomers succeed.
If you want to learn more about starting a home inspection business with HouseMaster® Home Inspections, a Neighborly® franchise, download the HouseMaster® Franchise Guide and talk with us today!