How to Start a Restoration Business | Neighborly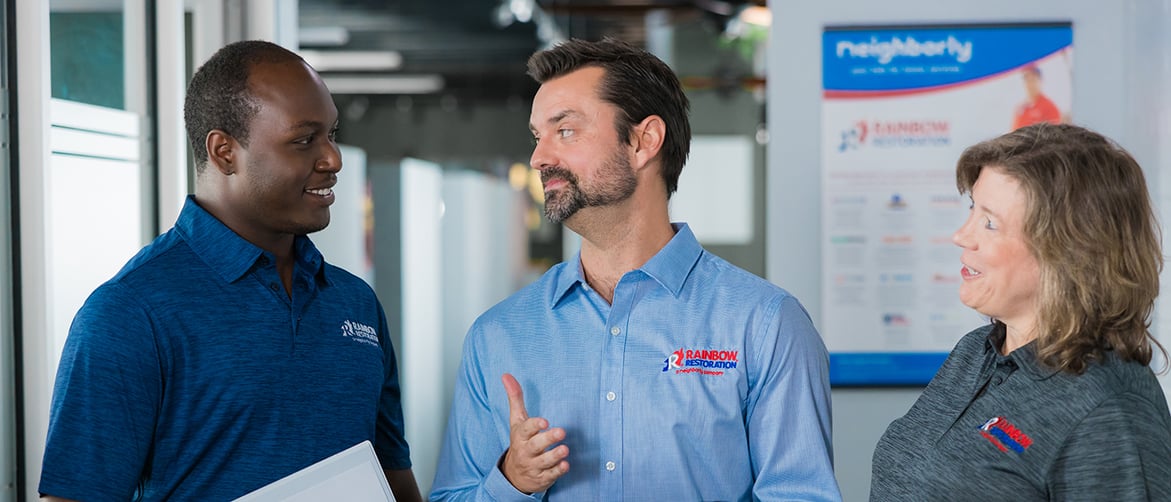 Owning your own business is not only rewarding, but it also allows you to make your own decisions and be in control of your future. If you are thinking about becoming a business owner, a business in the restoration industry should be at the top of your list. The essential nature of the restoration industry makes it recession-resilient and a great option when exploring business ownership opportunities.
In fact, the industry is expected to grow through 2033 at a compound annual growth rate of 5.7%, which would put the total market value at $80.1 billion. This forecast growth is due to a combination of aging infrastructure, modern building techniques that are sub-standard compared with the past, and increases in extreme weather. These factors indicate that in any economy, there will always be a need for professional restoration services.
What is a Restoration Business?
A restoration business is a business that specializes in repairing and restoring homes or commercial buildings that have been damaged by natural disasters, other accidents. This can include fire and smoke damage, water damage, mold removal and remediation, storm damage, and more. The goal of a restoration business is to return the property to its previous condition as quickly and efficiently as possible.
Restoration businesses are ideal for entrepreneurs who aim to tackle the biggest challenges and serve the people in their communities. These businesses are there for both residential and commercial customers when they need them most. The mitigation services are essential for damaged properties, and because of this, running a restoration business can be incredibly profitable.
Types of Restoration Services to Offer
There are many types of restoration services that businesses can choose to offer, depending on demand as well as your skills and resources. You could choose to specialize in a particular area or offer a range of services.
Providing a variety of related services holds many benefits, including allowing you to offer customers a "one-stop shop" for their restoration needs while increasing your profits by minimizing the need to subcontract out to other businesses.
Services to consider for your business include:
Water Restoration
Water damage affects about 14,000 people in the United States every single day. This makes it one of the most common causes of home damage. In fact, on average one in every 60 insured homes files a property damage claims due to water damage each year.
Although flooding and storm damage are the most frightening causes of water damage, they are not the most common. Most water damage is caused by issues such as:
AC leaks
Appliance leaks
Clogged gutters
Blocked drains
Faulty plumbing
Leaky roof
Mold Damage
The National Institute for Occupational Safety and Health (NIOSH) estimates that nearly 47% of residential buildings in the U.S. have mold. This may seem like a shocking statistic, but perhaps not after you know that advancements in detection and technology are doing a better job of revealing the harmful effects that mold has on homes and residents.
Mold can grow anywhere that moisture is present, and it can be harmful to both the structure of the building and the health of its occupants. In fact, mold damage can occur in both newer and older construction and is usually caused by water damage. These factors mean that detecting, removing, and preventing mold growth are all in-demand services that are essential to many homeowners.
Smoke and Fire Damage
Along with water and mold damage, smoke and fire damage are common issues faced by home and business owners all over the country. A 2021 study showed that there were over 1.3 million fires in the United States, which resulted in about $15.9 billion in property damage. The majority of these fires occurred in homes and caused extensive smoke and fire damage.
Smoke and fire can cause significant structural damage as well as pose serious health risks to those living or working in a damaged building. If firefighting measures were taken, water damage could complicate the recovery. This makes professional restoration services crucial for properties affected by smoke and fire.
Carpet Restoration
Carpets are one of the most common flooring choices for homes and businesses. However, they can also be easily damaged by water or fire, leading to extensive restoration needs. In fact, both upholstered furniture and carpets can play host to germs and grime, and require regular deep cleaning, especially if heavy wear and tear is present or when moving into a new home.
Additionally, for homes or businesses that have suffered a flood or fire, carpet restoration can be an essential service they will need to get things back to livable condition. These elements make carpet deep cleaning and restoration valuable services to offer.
Emergency Services
Most disasters happen without warning, and when they do, waiting until normal business hours for damage repair is not an option. When disaster strikes, home and business owners need a fast, effective emergency response. This can make offering 24/7 on-call restoration services a great way to help your local community and grow your business.
It is important to note that emergency services, mold treatment services, or water and smoke mitigation services may each require specialized equipment, training, and certifications. For example, states, including, but not limited to Florida, Texas, and Maryland may require a mold remediation contractor license to treat mold in homes and businesses. While all businesses require basic business registration and licensing, it is important to thoroughly research all local licensing laws and regulations before adding a restoration service offering.
I Want to Start a Restoration Business - What Do I Need to Do?
If you're interested in starting a restoration business, there are several steps you'll need to take first to get set up properly. These include:
Create a Business Plan
One of the first steps to starting a successful home restoration business is to develop a business plan. While business plans may vary depending on the type and scope of your business, in general, a home services business plan should include:
Company Structure - Be sure to research and select the appropriate legal setup for your business, whether that is an LLC, corporation, partnership, or sole proprietorship.
Market research - It's important to gather as much information as you can about your local community, target market, competitors, and common natural disasters in your area. This will help you plan your service offerings.
Service offerings - Think about the services you want to provide and how you will get the necessary equipment, tools, training, or certifications to offer them.

Financing and Funding Requirements – Consider all your financing needs. This section of your business plan should provide an overview of what you will use your business funding for, what kind of return on investment you are seeking, and what financial terms lenders can expect.
Obtain Restoration Business Licensing
Once you have your business plan in place, the next step is to obtain any necessary licensing or certification for your specific service offerings. As mentioned previously, certain states have different requirements and regulations for restoration businesses, and it's important to research these thoroughly before launching your business.
You should also consider getting IICRC certified. The Institute of Inspection Cleaning and Restoration Certification (IICRC) is the primary certifying body for the restoration industry. The IICRC certifications include 28 classes that cover a range of industry-specific services or tasks. Getting certified can help familiarize you with industry-standard applications, ethics, techniques, and terminology.
Claims adjusters and insurance agents are more likely to turn to IICRC-certified professionals. In fact, many insurance agents won't work with a company that isn't certified. An IICRC certification could be an essential part of growing a profitable restoration business.
Bonding and Insurance
A final critical step in starting a restoration business is obtaining the necessary bonding and insurance to protect your business, employees, and clients. This can include general liability insurance, workers' compensation insurance, commercial property insurance, and performance and fidelity bonds. Look for an insurance company that has worked with other restoration businesses and knows the specific hazards and needs of the industry.
Relationships Matter in The Restoration Businesses
One of the most important aspects of starting a restoration company is managing the relationships your business will need to forge with insurance companies and adjusters. In most cases, restoration work is a part of the insurance claim process. This means that successful restoration companies work closely with insurance companies to manage and complete the restoration process. As such, it's important to understand insurance policies, claims processes, and industry standards for pricing and invoicing.
Another essential aspect is building trust with clients. Disaster restoration is an emotionally charged field, as home and business owners are often in a vulnerable state after experiencing damage to their property. As a restoration professional, it's important to be empathetic and understanding while also providing expert solutions and guidance. Building trust with clients can lead to repeat business, positive reviews, and referrals.
Consider a Restoration Franchise
Starting a restoration business on your own can be challenging and overwhelming. With variable service offerings and a complex market to navigate, it makes good business sense to have experts by your side to help guide you every step of the way. For this reason, you should consider the benefits of starting a restoration franchise business.
In the restoration industry in particular, franchising has substantial advantages over other startups. For example, franchising reduces many of the barriers and difficulties that come with starting a restoration business by offering:
Established relationships and contracts with insurance companies and nationwide clients.
Established procedures for business operations
Front and back-end support (call center, legal team, website and databases, job management software, and more)
When it comes to starting a restoration business, Rainbow Restoration® is a top franchise pick. With more than 40 years in business, the Rainbow Restoration franchise is one of the most well-known and respected names in the restoration and reconstruction industry. Part of the Neighborly® family of home service franchises, we've been ranked #1 in our category in Entrepreneur's Franchise 500 and are proud to be a leader in restoration services worldwide.
A Rainbow Restoration franchise gives business owners the freedom to maintain independence while supporting steady business growth. Plus, we help you supplement your core restoration offerings with cleaning services, reconstruction services, content removal services, and more!
Ready to get started? Download our free franchise guide to learn more!