How to Start a Carpet Cleaning Business ‒ Go with a Franchise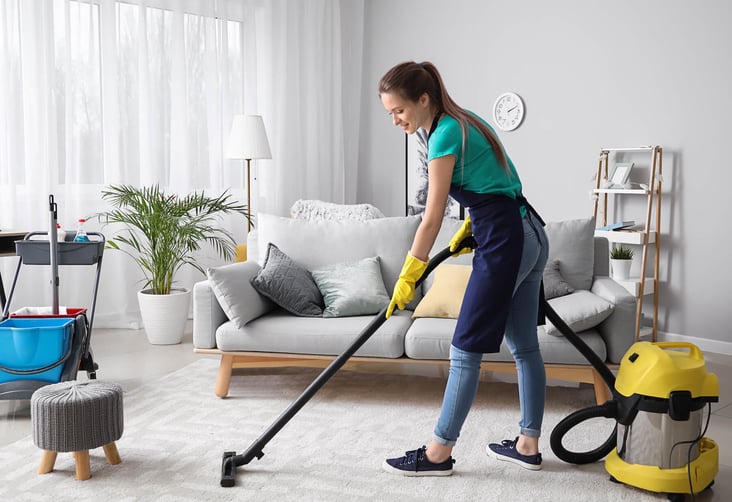 Starting a home services franchise could be the ideal way for you to pursue your dreams of business ownership while offering services that are in high demand. The first step in doing that is to determine what business will help you reach your goals. Many prospective owners seek business concepts that can typically weather economic ups and downs while still providing a helpful path to success. If that sounds like you, you may want to consider starting a business that does carpet cleaning.
High among the many reasons carpet cleaning is a compelling business is that the service is constantly in demand. Both homeowners and commercial real estate owners rely on carpet cleaners for their services. This makes the carpet cleaning industry a solid choice for many entrepreneurs.
Why Start a Carpet Cleaning Business?
Carpet cleaning stands out among small business opportunities. The cleaning market, including the carpet cleaning industry, has shown immense growth in recent years. In fact, the carpet cleaning services market is expected to reach $6.9 billion by 2025 and has grown by 3.3% in the last five years. Making it clear that there is a strong and ongoing demand for both residential and commercial carpet cleaning businesses.
The constant demand for the service creates the potential for recurring revenue for owners of businesses that provide the service. In fact, the Carpet and Rug Institute recommends having carpets professionally deep cleaned every 12 to 18 months to remove embedded dirt and grime, but some residential and commercial settings require cleaning even more frequently. While almost any resident could benefit from regular carpet cleanings, a big driver of the demand for cleaning services today is the growth in the rental industry. Rental unit carpets are typically cleaned before or after a tenant moves. Further demand is being driven by carpet damage from flooding, construction, pets, and more.
This multifaceted demand helps make carpet cleaning businesses some of the most recession-resilient businesses to own along with the many opportunities to develop repeat customers and a steady inflow of business. When taken into consideration, it starts to be clear why carpet cleaning is such an appealing industry in which to start a new business today.
Invest in a Carpet Cleaning Franchise
Of course, starting a new business from scratch is always a big challenge. Starting a carpet cleaning business is like starting any general cleaning business. You'll need to create a business plan, register your business, and secure business financing, among other foundational steps. If you don't have prior experience starting a business, it can take much longer to get your business up and running, not to mention gaining clients and building a base of repeat customers.
There is another option available to you though. Instead of going it alone, why not consider buying a carpet cleaning franchise business? If you prefer an experience with more support and assistance when starting your business, you may be a candidate for franchise ownership. Franchising can help bridge the gap between business ownership and success by offering established branding, proven systems, and the training you need to succeed.
Rainbow Restoration® Franchise
Rainbow Restoration is an excellent option for investing in a franchise that has carpet cleaning as a service. With more than 40 years in business and 300-plus franchise owners, the Rainbow Restoration franchise is one of the most well-known and respected names in the restoration and reconstruction industry. Carpet cleaning with Rainbow Restoration can be a recurring-revenue business, providing services to both residential and commercial customers.
In addition to carpet cleaning, Rainbow Restoration franchise owners may also offer additional services to local government and businesses. This diversification in services contributes to the economic resilience of Rainbow Restoration franchise businesses, even in times of recession.
Benefits of Franchising
There are many benefits of investing in a carpet cleaning franchise business. As an entrepreneur, you will have access to established systems of operation, marketing materials, and training. With an established national brand like Rainbow Restoration, you also get the benefit of long years of industry experience and advice from other franchise owners.
But the best part about franchising with Rainbow Restoration is that to find success, you don't have to know exactly how to start a carpet cleaning business or restoration business. As a national franchise, Rainbow Restoration offers a complete carpet cleaning business start-up package. In fact, the comprehensive onboarding process offers new franchise owners support and guidance with:
Using a proven business model
Learning the ins and outs of business ownership
Details of responsibilities, funding, location assessment, and so on
Building brand awareness
Following a proven marketing plan
Using the right software for your business and managing a website
Obtaining the most advanced carpet cleaning, odor removal, and restoration equipment
Recruiting, hiring, and training employees
As a Rainbow Restoration franchisee, you will receive all the benefits of starting your own business with the support and guidance of an established, well-respected company. If you are looking for an exciting opportunity to invest in your own business and make your entrepreneurial dreams a reality, consider investing in a Rainbow Restoration franchise.
Explore Franchise Opportunities with Neighborly®
Opening a business is an exciting, life-changing decision. We understand that you'll want to seriously consider all your options before taking the leap. To decide if franchising is right for you, get started today by downloading our Franchise Guide to learn more about Rainbow Restoration.