Starting a Business Checklist: A Beginner's Guide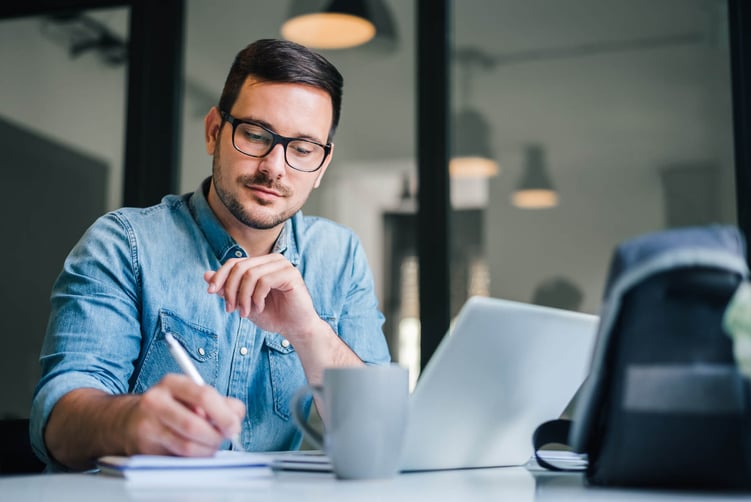 Opening a business is exciting, but it also takes a lot of hard work and planning. You'll want to ensure you have everything in order, from finding your business location to determining your financial plan so that you can hit the ground running when you open. This checklist for starting a business can help you get started, guiding you through all the steps needed to help make your business a success.
Starting a Business Checklist
Conduct Industry Research
Industry research helps you make the best decisions for you and your business. Your future business success depends on how well you know and can serve your customers, and that starts well before you open the doors for business. You need to clearly understand your customers, your potential competitors, and the overall business landscape.
You might start by deciding what type of business you want to open. No particular business type is suitable for everyone, and with many opportunities to choose from, it's important to select the right one for you and your lifestyle. Consider your long-term goals, and look into industries that fit your interests and meet your career aspirations. As you compare different business opportunities, determine what skill set might be helpful for each and consider what the day-to-day life would look like at that business.
As you begin homing in on your business idea, you'll want to get more specific with your research and consider the following areas:
Demand
Market size
Market saturation
Economic indicators
Location
Pricing
Conducting industry research is crucial for success, helping you make better business decisions, and avoiding costly mistakes.
Find Your Business Location
Potential income for your new business certainly relies on many factors, including location. Your business location can influence foot traffic and company atmosphere and impact the long-term success of your business. Choosing a business location should not be done on a whim and should be part of your initial research. The business location you choose will likely depend on the type of business you operate. You might even start by considering if you should have a brick-and-mortar location or if you could start your business without one.
If you determine that you need a brick-and-mortar store to serve customers, you'll want to consider what areas your business would best perform: rural, suburban, or urban. You should also consider the area's local laws, ordinances, demographics, zoning regulations, and taxes. One of your key considerations should be finding a location that fits your company's budget. Remember to budget for additional costs such as renovations or utility upgrades.
Finding the ideal business location takes careful planning and research. When selecting your business location, there are many factors to consider, but a thoughtful strategy can help you find the best place.
Build Your Business Plan
Your business plan will be the roadmap for taking your business from concept to reality. Business plans typically map out the course of the business for the next three to five years, and they generally include the following:
Executive summary - This top-level outline goes over everything in the business plan. It should also include your mission statement and basic information about your company's leadership structure.
Business description and structure - This should include detailed information about your company's industry, value proposition, background information, legal needs, strategic relationships, and short and long-term business objectives.
Market analysis - Describe your marketing forecast and how your business stands in relation to competitors, target customers, and industry trends.
Service or product line - Describe your products or services and explain how it benefits your customers.
Financial documents - This section may be particularly important if you are looking to secure funding or attract investors. Prepare a prospective financial outlook for the next three to five years. Include conservative projections of your profit and loss statements, balance sheets, cash flow statements, and capital expenditure budgets.
Remember that business plans need to be reviewed and revised regularly as the business moves forward.
Determine Your Financial Plan
A critical piece of starting a new business is planning to finance it. That decision may begin with determining the amount of funding needed. To help make sure you secure the right amount of funding, here are some tips:
Calculate the entire initial investment (startup costs and operational expenses)
Account for other associated costs like business insurance or other fees
Plan to have three to six months' worth of operational costs on hand in reserve funding while building out the customer base.
Depending on the funds needed to start your business, you may consider various funding options, such as self-funding, investors, or loans. Self-funding may include launching your business from existing funds or utilizing investment account rollovers.
If you determine that you need additional financing for your business, here are some of the most popular ways to fund a new business:
Commercial bank loans - This type of loan gives you the money upfront, and you pay it back monthly (with interest) over time.
SBA loans - SBA loans operate similarly to commercial bank loans but with lower interest rates and longer repayment timelines.
Alternative lenders - Loans from alternative lenders operate like commercial bank loans but include additional terms that will cost you. These loans may be smaller and have shorter repayment periods.
Some entrepreneurs may also utilize friends and family loans, where you and your lender, a family member or friend you know and trust, can collectively decide on the loan terms. No matter which outside financing option you select, make sure you understand the full terms of your funding, including the payment amount, interest rate, and schedule.
Ensure Your Paperwork is in Order
Before a new business can start serving customers, they must ensure they have all the necessary permits, licenses, and registrations. Many factors go into what paperwork you need to make your business legal, such as:
May require state and federal IDs
Licenses and Permits
Business Registration
The rules around which specific types of paperwork are required will likely vary state by state. It's also important to seek advice from a business adviser, attorney, or accountant about starting a business legally. These professionals can assist with the aforementioned permits and licenses as well as taxes and insurance.
Consider Franchise Business Ownership
One way to get up and running with a business more quickly than starting from scratch is through franchising. Many prospective business owners choose franchising as a path to ownership because of the help, process, and systems this path offers. Training and support are included when you invest in a franchise, and why many aspiring entrepreneurs choose franchising. A quality franchise training program may include the following items:
Ongoing business and leadership training for the franchise owner
Individualized advice from a dedicated business coach
Marketing training and tools based on established systems
Franchise management training and leadership guidance
Recruitment training, materials, and guidance
Proper training builds brand consistency increases efficiency and improves employee retention. With a strong company framework in place and the potential to take on lower risk with an accessible support network, tools, and resources, investing in a franchise can be an excellent way to start a business.
Starting a Franchise Business With Neighborly® Can Help You On The Path To Business Success
As you begin planning for your new business, consider starting a franchise where you can be your own boss while streamlining the startup process and choose an industry where there has been significant growth and is projected to continue along upward trends. Neighborly is the world's largest home services company and offers franchise business opportunities that are particularly attractive in this industry. With Neighborly, you receive a tested business model, operational resources, and a supportive network to help make your business ownership goals a reality.
Download our eBook Franchising: A Path to Your Future to see if franchising is the right path for you.