Starting a Window Cleaning Business – A Smarter Way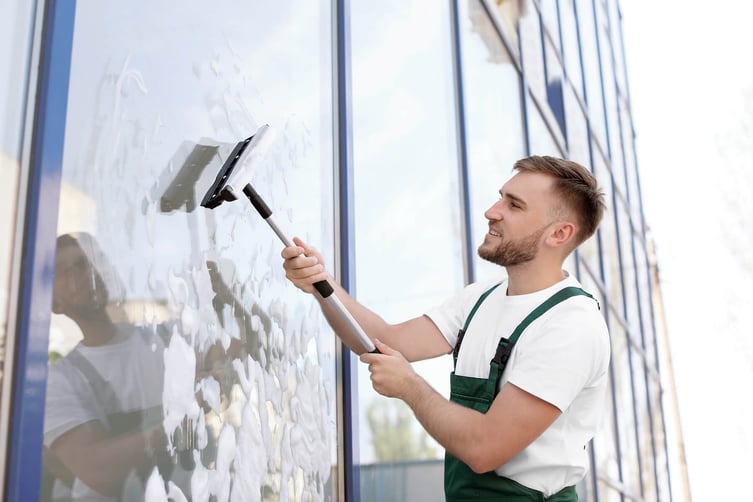 Are you looking for a business opportunity that has lower startup costs, minimal overhead, comprehensive training, and flexible hours? If so, a window cleaning business may be right for you.
Compared to many other service-based businesses, starting a window cleaning business is relatively simple and offers many advantages:
Be your own boss
Work from home
Repeat clients
Lower startup and overhead costs
Scalability
Window cleaning is also a service that is in high demand. Research shows that the window cleaning market is expected to grow to $3.5 billion by the end of 2028. When you consider that industry revenues were $1.2 billion in 2019, it's easy to see how a window cleaning business could be a lucrative and rewarding opportunity.
If you're interested in learning more about how to start a window cleaning business or a window cleaning franchise, there are a few important steps that you'll need to take.
Plan Your Window Cleaning Business
The first step to starting a window cleaning business is to develop a clear plan for your business. A business plan is an essential part of your new business's future success. Within the plan, it's important to thoroughly explain your purpose, goals, and services.
Your business plan should also include:
Target markets
Initial startup and ongoing costs
Pricing for your services


Identify Your Target Market
A vital part of your business plan is identifying your target market. This means that you need to determine who your ideal customer is and how you plan to reach them.
For a window cleaning business, you can start by choosing whether you'd prefer to service commercial or residential customers, or both. Many window cleaning businesses can also specialize even further.
For example, you can narrow your target market down even further by focusing exclusively on:
Homeowners
Apartment buildings
Storefronts
Government buildings
Car dealerships
Restaurants
While there is no need to limit yourself to just one of these potential client types, it is important to analyze the demand in your area for each service. As part of your market research, be sure to take a detailed look at both direct and indirect competitors. This would include both window cleaning businesses and other businesses that offer window cleaning as an additional service. By carefully researching the competition, you can make decisive decisions for your business and craft a more effective marketing strategy.
Plan for Startup and Ongoing Costs
Once you have identified your target market and developed a business plan, the next step is to develop a budget for startup costs and ongoing expenses. One of the greatest advantages of starting a window cleaning business is the low initial and ongoing costs. The basic window cleaning supplies needed to get started can typically be purchased for under $500.
As your business grows, you may want to expand your service offerings and invest in additional equipment like scaffolding and more high-priced tools like pressure washers.
Ongoing costs are also relatively low for a window cleaning business. There is no need to rent office space initially since you can start and operate your business from home. As you begin to build a client base, you can hire employees or subcontractors to help with the window cleaning work to keep pace. This can keep your overhead expenses and income balanced.
Price Your Window Cleaning Services
Once you know what services you are going to offer and who your target market is, the next step is to set pricing for your window cleaning services. There are a few different factors you should consider when deciding how much to charge for your services.
You'll need to identify how much to charge in order to cover the cost of labor and provide the services along with the long-term plan to pay off startup costs.
It's also important to find out how much your target market is willing to spend on window cleaning services. Will they pay more for premium services like exterior window cleaning and high-rise work? Or will they only be able to afford a more basic service level?
It's important to be competitive in your pricing and to consider how much your competitors are charging for similar services. This can give you a baseline for what your customer base expects when requesting this service from other providers.
No matter the pricing you decide on, it's important to be clear and upfront with your clients about how much they can expect to pay for your services.
Obtain Business Permits and Licenses
With your business plan in place, your next step is to obtain all required business permits and licenses. Any business, including a window cleaning company, must be properly licensed and registered to operate legally. While there is no universal license or permit for operating a window cleaning business, different states and even cities have licensing requirements for businesses planning to operate there.
For example, you may need to register with your city, state, or even county for a business permit. You may also need a separate window cleaning business license, a surety bond, or other permits or licenses.
To make sure that your business fully complies with all applicable laws, be sure to research your state and local regulations carefully and to start the application process as early as you can.
Secure Startup Funding
Whether you are starting your window cleaning business from scratch or buying into an existing window cleaning franchise, it's important to secure the necessary startup funding. Window cleaning businesses have a lower startup and overhead costs when compared to other types of businesses, but all businesses require initial funding.
Some common sources of startup funding include personal savings, funding from investors, small business loans, and grants. The U.S. Small Business Administration offers a range of loan products for small businesses, including the Microloan Program, which offers loans up to $50,000 for qualified entrepreneurs. If you decide to join a franchise, the franchise company may be able to help you secure the funding you need to get your business up and running.
Day-to-Day Window Cleaning Operations
Once you have your business off the ground, you'll need to focus on day-to-day operations to ensure its success. If you are starting solo, you should expect to wear many different hats.
For example, some common responsibilities that sole business owners take on include:
Marketing your business
Offering quotes
Scheduling appointments
Window cleaning services
Invoicing clients
If that sounds like a lot to handle day to day, you are right! Starting a new business on your own can be particularly challenging without the support, resources, and guidance of industry experts, like those you'd find in a quality franchise organization.
Consider an Easier Path: A Window Cleaning Franchise
If you are looking to start a window cleaning business but want the support and resources of an established organization, then a window cleaning franchise may be right for you.
A window cleaning franchise typically offers several benefits, including:
Access to an established brand and customer base
Extensive industry experience and expertise
Turnkey operations, including training, support, and resources
Access to specialized equipment, including proprietary technology tools that can help you run your business more efficiently than you thought possible.
Joining a franchise means that you can skip much of the frustration, uncertainty, and trial and error that usually come with starting a new business. Instead, your new business can bank on a successful, established brand and built-in customer base.
Window Genie Franchise
If you are looking for a window cleaning franchise that can help you get your business off the ground and put you on the path to success, look no further than Window Genie®. Window Genie is an award-winning franchise and an industry leader, offering franchise business owners the ability to provide an array of services, including window cleaning, window tinting, pressure washing, gutter cleaning, and holiday lighting services.
As part of the Neighborly family of home service brands, Window Genie comes with many valuable benefits to franchise business owners, including:
Operational training and ongoing support
Designated franchise territories
Proprietary mobile software system
Marketing support, tools, and strategies tailored to your region
Your local, customizable, professional website
Vehicle wraps with the colorful, eye-catching branding to help your business stand out
Discounted supplies and equipment
And much more!
You May Be Closer Than You Think
With our established business model and well-known name in the window cleaning business, you can avoid many of the inevitable startup struggles and get your new business off to a great start! Contact us to learn more about our company and our comprehensive support system for franchisees.
This information is not intended as an offer to sell, or the solicitation of an offer to buy, a franchise. It is for information purposes only. If you are a resident of a U.S. state or a country that regulates the offer and sale of franchises, are receiving this message in one of those states or countries, or intend to operate a franchise in any of those states or countries, we will not offer you a franchise unless and until we have complied with any applicable pre-sale registration and/or disclosure requirements in the applicable jurisdiction.